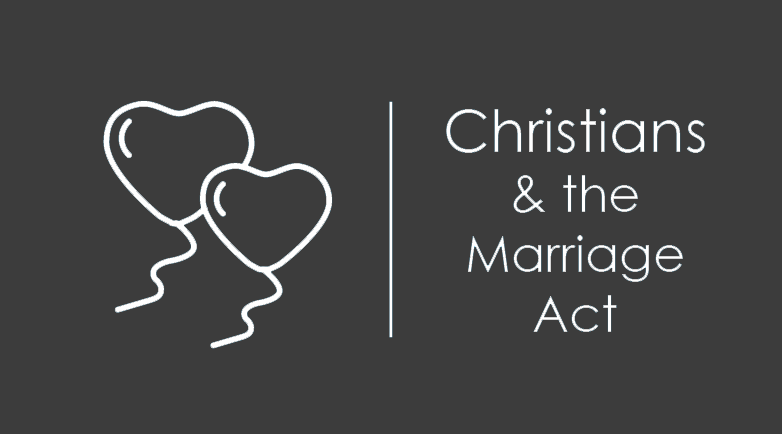 Marriage
Blog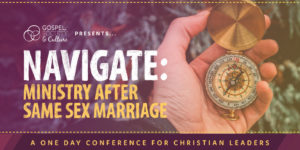 At the end of 2017, the Australian Federal Parliament introduced same sex marriage. You might have questions about what Christian ministry will look like now that marriage law has changed.
What happens next?
What are the challenges and opportunities for ministry?
What do we teach about marriage, sexuality and gender?
What are the legal and political developments to keep track of?
Is it possible for churches to hold to biblical views of sex and marriage and still reach out to the LGBT community?
What lies in the future for churches, Christian schools and charities?
How do you preach on marriage in the new context?
How do you care for people in your church as they deal same sex attraction, and with family and friends who are gay and lesbian?
NAVIGATE, to be held on March 1 at Christ College, is a conference that will help Christian leaders answer these questions and find their way through the changing social and cultural landscape.
NAVIGATE will offer a series of well informed presentations on key questions, with plenty of time for questions and discussion. It will include time to work in groups to clarify some of the important pastoral issues and develop shared responses.
We have lined up a great list of presenters, including two leading international thinkers who will speak to us live and take questions.
Rosaria Butterfield, author, speaker, homemaker and former professor of English
Dan Strange, Principal of Oakhill Theological College, London
Peter Jensen, former Anglican Archbishop of Sydney and General Secretary of GAFCON (Global Anglican Future Conference)
Michael Kellahan, Executive Director of Freedom for Faith
Peter Thompson, Minister of Southern Cross Presbyterian Church, Lismore
Peter Currie, Minister of Woonona Presbyterian Church
Sandy McMillan, Minister of Drummoyne Presbyterian Church and GSC Committee member
John McClean, Convenor of the GSC Committee and Christ College lecturer
NAVIGATE will finish with a dinner held at Burwood RSL Club with an address by a guest speaker.
To attend our NAVIGATE conference book at here .
Download the NAVIGATE flyer from NAVIGATE + TGCA flyerHI.
GS&C welcomes TGCA as a partner in presenting NAVIGATE.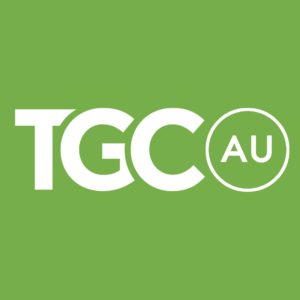 We Christians need to think about marriage.
Marriage in Australian society is changing rapidly and we have to be clear about why marriage matters to God and what we are going to do about it. Discussion of same-sex marriage has put marriage back in the news, but that is only one of a number of related issues.
What does the Presbyterian church think about the matter?
In 2013 the General Assembly of the Presbyterian Church of Australia made a clear declaration about the church's teaching on marriage.
We, the Commissioners of the General Assembly of the Presbyterian Church of Australia here assembled declare:
that the true definition of Marriage is found in God's Word when it reports Him as saying: "For this reason a man will leave his father and mother and be united to his wife, and they will become one flesh." [Genesis 2:24]. It is the lifelong union of one man with one woman, voluntarily entered into, excluding all others.
that the purposes of marriage in God's design are lifelong companionship, social stability and the natural procreation and nurturing of children [Genesis 2:18, Ecclesiastes 4:9-11; Deuteronomy 6:1-7, Ephesians 6:1-4; Proverbs 14:1, Psalm 127 & 128].
that despite any actions by human governments so called "same-sex marriage" will never be truly marriage.
that the introduction of so called "same-sex marriage" will not contribute to the good of society but will reduce the respect in which marriage is held and further legitimise the procurement of children for same sex couples when a child should, as far as possible, have a mother and father.
that the introduction of so called "same-sex marriage" will be very likely to encroach on freedom of religion in Australia since it will become increasingly unacceptable to speak against homosexual behaviour.
that God condemns homosexual behaviour along with all forms of sin and provides forgiveness of and redemption from all sin through Christ and commissions his church to proclaim this message to all people.
that all Christians struggle with various sins throughout their lives and depend on God's help, including the support of fellow Christians, to serve Christ faithfully; so Christians who experience same sex attraction should receive compassionate support from fellow believers as they seek to live faithfully either as celibate or in marriage as God has designed it.
Therefore the Assembly
calls on all governments in Australia to refrain from any legislation to introduce so called "same-sex marriage"
calls on all members to oppose the introduction of any legislation for so called "same-sex marriage"
calls on members to communicate the redemption found in Christ to every section of the community
calls on members to offer compassionate support to fellow Christians who experience same sex attraction as they seek to live faithfully either as celibate or in marriage as God has designed it.
The 2016 General Assembly also resolved to:
Urge all states assemblies, presbyteries, and congregations to prayerfully and practically support the "No" case in opposing the redefinition of marriage to include homosexual unions in the upcoming 2017 plebiscite.
General Assembly of PCA resolution on same-sex marriage.
The Presbyterian Church of Australia is part of the Coalition for Marriage . It consists of more than 80 groups from across Australia, representing over 3 million people and is led by the Australian Christian Lobby, Marriage Alliance, the Catholic Archdiocese of Sydney and the Anglican Diocese of Sydney. We encourage all members of the Presbyterian Church in NSW (and everyone concerned to preserve the current definition of marriage to sign up to the coalition. Follow the link above to do that.
Here is a document with a review of useful resources to help Christians think about the marriage debate. Feel free to download it and share with anyone who might be interested. Marriage Matters – Resources to prepare for the Postal Survey
Help your church think about marriage by working through the studies Marriage God's Way. Now is an important time for Christians to be clear about God's view of marriage. It isn't enough to just be 'traditional' (because traditional marriage is not the equivalent of the biblical view). These studies help you work through the basic biblical teaching about marriage. They show that marriage is something God has designed, for the sake of the couple and for children and the wider society. The fourth study looks at some of the difficult issues of marriage: singleness, submission, domestic violence and divorce. Here is what some Christian leaders have said about the studies.
"A much needed resource at a time when our understanding of marriage and gender is undergoing radical redefinition … a safe and pastorally sensitive forum for discussion … uncompromisingly founded in God's word, the Bible." Carmelina Read, Chatswood Presbyterian Church; Dean of Women, Christ College
"This is a time for Christians to think clearly from the Bible about marriage. Marriage God's Way is a great resource to help us to do that." Sandy McMillan, Senior Minister, Drummoyne Presbyterian Church
"A clear biblical foundation for marriage in a refreshing, sensitive and thought provoking way. … I really appreciated that they tackle some of real and difficult issues of divorce, abuse, childlessness, remarriage very sensitively and respectfully (something I don't usually find in Bible studies so thank you!!!)." Chris Quirk, Blacktown East Presbyterian Church; Visiting Lecturer, SMBC
In October, the Committee released a discussion paper — Marriage debate — dealing with the question of same sex marriage. It argues that Christians should get involved in the discussion for the sake of the common good. It also looks at how we can get involved and suggests some answers to some of the questions which often come up.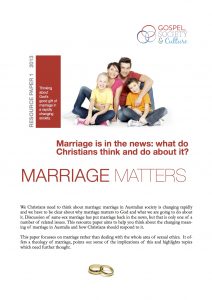 In 2013 the committee put at the Marriage Matters Resource Paper which looks at the wider redefinition of marriage which has happened in Australia and how the church can respond.
Here is a summary of the PCA view about marriage, from the General Assembly of Australia Church and Nation Committee: Redefining Marriage.
Discussions of marriage and debates about same sex marriage demand that Christians think about singleness. Christianity Today had an interesting editorial reflection on singleness in the midst of marriage debates: Same-Sex Marriage and the Single Christian.