GS&C Resource Papers and other links – a list of resources available on this site
Blog
One of the major ways in which the committee seeks to serve the churches is that we produce resource papers on topics of concern for Christians in Australia. Here are the papers we have produced, along with some other resources on the same topics.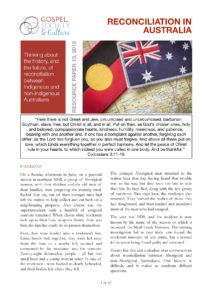 Reconciliation in Australia – GS&C resource paper
The history of the treatment of Aboriginal and Torres Strait Islander peoples are deep wound in Australia. What do Christians need to know about that? How does the gospel make a difference? What can Christians and churches do?
This paper helps to answer these pressing questions.
Why Christians should speak on this contested topic, and some ideas about how to do that.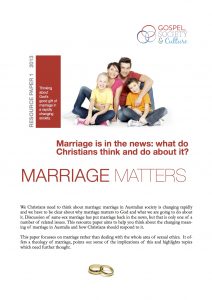 Marriage Matters Resource paper
Further Thoughts
Religion and Anti-Vilification Laws
Atheism Science and Christianity
Further Thoughts
Information and Communication Technology
Further Thoughts
Sexualisation
Further Thoughts
Christ among the gods P3
Further Thoughts